Microdermabrasion is a facial procedure that uses manual exfoliation to remove the outer layer of skin. We use a Diamond Tipped wand to abrade the surface of your skin. Overall, microdermabrasion will reduce the appearance of wrinkles, remove acne scars, minimize the size of the pores, reduce sun damage and even out the skin tone.You will need to protect your skin with a sun block for after the treatment. After the treatment you may experience mild redness and sloughing.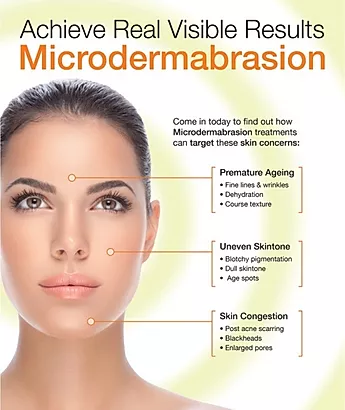 Microdermabrasion Facial
This is a deep cleansing facial is about glowing and healthy skin. Combine skin specific cleansing, exfoliation, microderm to face only, extraction (if needed), relaxing facial massage, mask that will soothe.
(1 hour 15 minutes)………..$125
Services below are not facials, it is just the service.
Face Only (30 minutes)……….$73
Face & Neck (45 minutes)……….$88
Face, Neck & Decollete (1 hour)……….$120
Back (1 hour)……….$100
Elbows or Knees (20 minutes)……….$33
Microderm Packages
Package of 4……….$248.20
Package of 6……….$350.40
Package of 8……….$467.20