Everyone wants clearer more beautiful skin that looks smooth and unlined as a baby's face. The problem is few are willing to go through the pain or downtime associated with deep skin treatments.
That is why HydraFacial's are the new skin treatments of choice. According to Allure, a HydraFacial is performed every 15 seconds, somewhere in the world.
What Is A HydraFacial?
A HydraFacial is a treatment that uses patented technology (a medical-grade device) to cleanse, extract, and hydrate skin. It clears dead skin cells, loosens pores, and preps them for extraction using a mix of glycolic acid, salicylic acid, and botanical extracts. Then, it uses a unique vacuum-powered extraction method to remove "gunk" from the skin in a virtually painless procedure.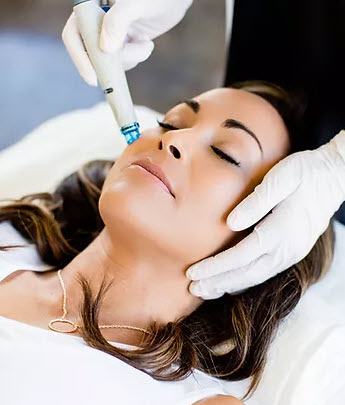 ​It's all made possible thanks to a double-helix vortex treatment wand. One chamber of the wand draws dead skin cells and dirt from the skin while the other pumps the skin full of soothing nutrients (hyaluronic acid, vitamin C, and growth factors). Basically, your skin is freshly cleared for deeper penetration. It's essentially a peel, microdermabrasion, and hydrating mask all in one.
Signature HydraFacial
Deeply cleanse, extract and hydrate the skin through our super serums filled with antioxidants, peptides and hylauronic acid. This is a popular treatment because you get fantastic results without all the side effects of a deep skin treatment. It is the perfect addition to anyone's monthly routine.
(30 minutes)………..$199.00
Signature HydraFacial Packages
Package of 4………..$666.00
Package of 6………..$938.40
Deluxe HydraFacial
Is a treatment that includes all of the essentials of the Signature HydraFacial while addressing specific skin concerns with the additions of HydraFacial's boosters and LED light therapy. The Deluxe HydraFacial is best for clients wanting to customize their treatment with an extra boost.
(45 minutes)………..$295.00
Platinum HydraFacial
The Ultimate HydraFacial experience! We begin the exfoliation process with Lymphatic Drainage. Follow with the Signature HydraFacial to deeply cleanse, extract and hydrate the skin through our super serums filled with antioxidants, peptides and hylauronic acid. Then we address specific skin concerns with a booster of your choice. The treatment concludes with LED Light Therapy to further reduce the visible signs of aging.
(1 hour)………..$325.00
NEED A BOOST?
GROWTH FACTOR BOOST: Are you looking to restore your skin's health? Reduce the appearance of fine lines and wrinkles while leaving the skin's overall structure restored and vitalized.
ALASTIN BOOST: Helps to clear out damaged collagen and elastin, which supports the skin's natural ability to produce new elastin and collagen. Reduces the appearance of thinning skin, fine lines and wrinkles. Improves overall texture and tone for a more youthful complexion.
DERMABUILDER BOOST: Not loving the texture of your skin? Even out your skin tone while minimizing signs of aging by revitalizing your skin with a patented combination of peptides.
BRITENOL BOOST: Too much time in the sun? This serum is here to correct those mistakes by decreasing the appearance of dark spots and sun spots to produce an even complexion.
Back Signature HydraFacial
This treatment performs a deep cleansing, extracts impurities and intensely hydrates. It can be adapted according to your skin needs with vacuum as well as manual extractions. This is all finished off with purifying blue LED light therapy.
(30 minutes)………..$250.00