Have you ever wished you had the time to retreat from your busy life and focus on taking care of your skin or enjoy a relaxing facial? Are your skin care goals hard to achieve? Our environment has been designed to offer both a peaceful escape for men and women wanting to experience a unique facial and a quality, individualized skin care program to help maintain healthy, vibrant skin.
Our advance skin care treatments utilize the latest non-invasive systems and cutting edge technology to safely and effectively address skin issues such as acne, rosacea, skin discoloration, sun damage, fine line, uneven skin tone, slacken skin and overall age management.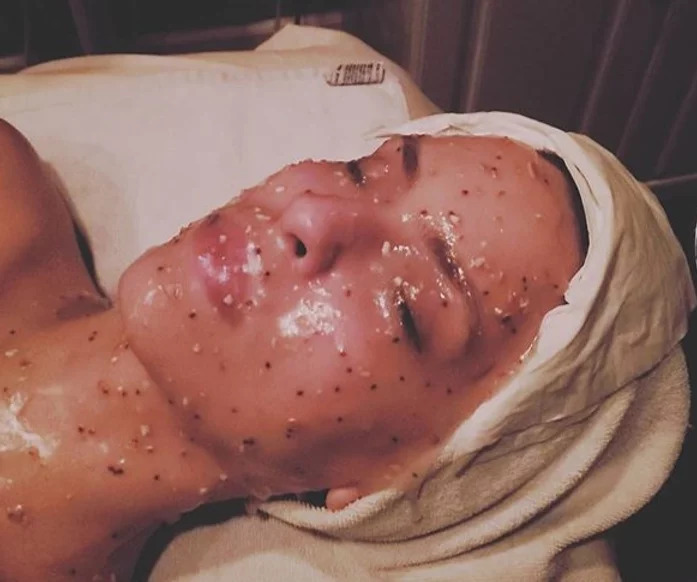 Skin Coaching
This will whip your skin into shape. This experience starts with an assessment or skin fitness test, where you share your skin care concerns. It will allow for a complete customizable experience. If you purchase the products or treatment suggested the money is credited to your account.
15 minutes……….$30.00
Signature Facial
This deep cleansing facial that is all about relaxation, total stress relief and radiant skin. Combine skin type specific cleansing, exfoliation, extraction, an individualized skin specific mask chosen to suit and soothe. Includes a relaxing hand and foot massage.
30 minute…………………..$60 (no extractions)
45 minute…………………..$90 (no foot or facial massage)
1 hour…………………………$105
1 1/2 hour…………………..$135 (includes declotte)
Facial Package (4 -1 hour facials)…$360
Teen Facial
Uncover the importance of good skin habits at a young age with teen facials. This facial is designed to address breakouts that is associated with adolescent skin. It begins with a deep cleansing, gentle extractions, and a skin specific healing mask.
45 minute……….$85
Faux-Tox Facial
This is the ultimate anti aging facial. The vaccum suction allows for lymphatic drainage to decrease any puffiness and increases the circulation. The painless enzyme peel removes any dead skin cells or debris from the surface allowing the mask to penetrate deeper. Argireline is such a wonderful product. It's actually a synthetic peptide that helps to treat and prevent muscle movements that lead to fine lines and wrinkles. It also stimulates collagen production and helps the skin retain moisture. We add the caviar serum and jelly mask which is packed full of vitamins and minerals that nourishes the skin. Caviar treats inflammation, balances the skin tone and produces wrinkle reducing collagen. The red light therapy will increase your skin's natural absorption.
1 hour…………$200
The Ultimate Facial
This is the ultimate relaxation facial. This facial firms, lifts, hydrates, reduces the appearance of wrinkles and dark circles under your eyes. If you have an event to get your skin red carpet ready this is for you.
2 hours……….$365
Shir Organic B-Purely Ageless Facial
This facial contains all natural and organic anti aging ingredients which stimulate cell regeneration, strengthen, hydrate and defend the skin against environmental damage. It lends a supple and youthful integrity which plumps the skin and helps slows the aging process. Saturated with phyto-nutrients, antioxidants, vitamins and proteins. Shir-Organic B-Purely Ageless Facial will create firmer, younger looking skin, which radiates a healthy glow.
1 hour…….$130
Shir-Radiance RX Hydra Firm Rejuvenating Facial
This rejuvenating facial locks moisture in the skin and brings out a brighter compexion. AHA acids deeply exfoliate the skin and even the skin tone. Hyaulronic Acid, pentavtin, Ceramides and Collagen provides long lasting hydration, helps with skin elasticity, and gives a supple and plump look to the skin. You will leave looking vibrant and rejuvenated.
1 hour 15 minutes……….$150
Shira Collagen O2 Facial Treatment
This is a state of the art treatment that uniquely utilizes the benefits of both collagen and oxygen to protect and restore the skin's natural balance while giving the skin fresh, smooth, and supple appearance. The benefits of this treatment reduces redness, increases skin moisture, reduction in skin roughness after 48 hours, brightens pigmented skin, plumps and lifts sagging skin.
1 hour……….$145
Image Be Clear Purifying Facial
This acne treatment combats all grades of acne, combining powerful anti-bacterial peptides and salicylic acid with soothing anti-inflammatory botanicals. Perfect for treating oily, acne and acne prone skin.
1 hour……….$140
Image Anti-Aging Facial
This comprehensive treatment combines our stable tri-vitamin C blend with correcting exfoliating agents, plant-derived stem cell technology and deeply hydrating ingredients to treat redness, inflamed and dry, dehydrated skin.
1 hour……….$140
Image Illuminating Facial
Introducing the next generation of powerful skin lightening ingredients. Quickly diminishes all forms of pigmentation from sun spots to melasma. Formulated by plastic surgeons, this revolutionary intense lightening line utilizes Vectorize-Technology to deliver potent encapsulated lightening agents to correct and prevent pigmentation and uneven skin tone.
1 hour……….$125
Image Max Stem Cell Facial
This exclusive line supports skin's natural defense mechanisms and repairs cellular damage. It delivers unsurpassed preventative measures against the effects of aging with a unique blend of plant-derived stem cell technology and nutripeptides ti help plump your skin. Specially formulated pure, active ingredients provides protection at the cellular level against nutritional imbalance, oxidative stress and UV damage.
70 minutes……….$153
Image O2 Lift
Imagine releasing fresh, healthy skin hidden below layer of older skin cells with a process that's both gentle and invigorating. Using oxygen, plant-derived stem cells, peptides and specially concentrated enzymatic botanicals, O2 Lift delivers a premium spa experience with immediate results. This anti-aging, luxurious spa treatment produces gorgeous luminous skin that feels as healthy as it it radiant.
50 minutes……….$115
Back Facial
Experience a relaxing back treatment that includes deep pore cleansing and steam to lift impurities, followed by a gentle extraction and a specialized treatment mask. Exfoliates, hydrates, and tones the skin in this hard to reach area.
45 minutes……………$125
Fibroblast
Fibroblast Plasma Skin Tightening is a revolutionary, non-invasive alternative treatment to traditional surgery.  A topical anesthetic is applied to the area to be treated as the procedure can be a little uncomfortable. A slight burning sensation can be felt as the skin becomes heated. The numbing cream helps to make this treatment tolerable.  The treatment helps eliminate excessive tissue that causes sagging skin, unwanted wrinkles, stretch marks and even diminish scarring. It also diminishes the risk, pain and down-time associated with traditional invasive surgery.  
What is Fibroblast Plasma Skin Tightening?
As we age, the dermal layer of our skin thins, our bodies produce less collagen and we lose elasticity. This is unfortunately a natural aging process which causes wrinkles and sagging of the skin. Our licensed estheticians use the fibroblast plasma treatment to eliminate signs of aging by tightening and lifting sagging skin.
How is this done?
Micro charges of plasma energy are applied to the skin in a non-contact way via the Plamere Plasma Pen. This causes sublimation of the tissue in very superficial levels, eliminating excess tissue and reducing or in some cases even eliminating wrinkles and saggy tissue.
Aftercare and downtime
You can expect to have some redness and swelling immediately after the procedure and for a few days following. Tiny dark brown spots will be seen where the individual micro dots have been placed. You will be provided with post treatment balm to apply to the area. The dark spots should be left to fall off naturally as these are protecting the skin underneath. After about 5 days to a week, these will fall off and the skin may still be slightly red. Mineral makeup can be worn 24-48 hours after the treatment. Sun protection must be applied to protect the healing skin.
Results
Some tightening of the skin will be seen immediately after the treatment, but best results can be seen approximately 6-8 weeks after the procedure. Results can last 9-18 months, lifestyle choices that effect skin ageing and damage are a factor however for longevity. For optimum results more than one treatment may be needed with a minimum of 6 weeks between treatments for the same area.